POSTED ON: Sunday, October 30, 2011 @ Sunday, October 30, 2011 | 0 comments
ini post.tkde kne mngne ngan kau.
haha.cume tok awok aje.
haha.*uke fyne.anoying kn?
hmm.
dear gmuk,
get well soon la.
bole men lary2 lagy kn :)
t jage la dry 2 baek2.
willing tgk awok lbey mkn dae xdpt mkn.
kcian dye.
dun miss ur meddi yep.
im here,so i anything just tell taw.
jgn malu2.haha.
like old time.kte men cite jee sume bnde kn?
sayang gmuk la :)
*halamak gdik siot
p/s: lalalala.tapaya na sibukk na taw spe :) <3 
kilat sambar menyambar :)
POSTED ON: Friday, October 28, 2011 @ Friday, October 28, 2011 | 0 comments
haluuu :)
lolz title na cmgitu kn ?lolz
haha.ini post tade kaitan ngan kau.
haha.alala.takya la sedih sgt kn.
blog aku suke aty aku la.
hurm.ary2 kn.ttbe kn.
kn kn.awok lee.da lme xdga cte.ttbe jee.
taw2 dy saked.adehh.
tkjut berukk la plak aku.hoho.
heish buat aku kne stroke r dy ny.
em.tpe la.ope cpt smboh.
dun miss ur meddi.
lau mken trok t lagy susa t.taw
jge ler dry 2.amboii.

then ary ny ckp:
aku WTW nan sumone ny.
sjak bile weii?
em.suke aty la.mlot arg kn suke aty jee nk ckp ape.
and lau dtg dae kau yg pnye bdn,
jgn la prasan sgt aku hamak nan WTW ngan kau.
heish.xphm aku la.
tpe.redha.aku kn jaat.
xmcam kau.suci murni.
pijak biawak pun koma 10 taon kn.
*smiley face tok awok. :).suke aty la kn.
p/s; maken lame manusie suke menfitnah.nk KIAMAT.

POSTED ON: Tuesday, October 25, 2011 @ Tuesday, October 25, 2011 | 0 comments
halu.humm.
heish ttbe xde mud plak.em.np?
tah.lumrah idop kn.
em.epy deepavali lar spe yg smbot.
hee.yg pnteg aku xsmbot la.
bsok bru stat stady.hehe
ary ny na pnat2 tgn wt post nihh.
*ape aku meraban ny?adeh.lyn jee la.
humm.manusie.
kte sume pn manusie kn.
cume aku tak phm dgn kau.
sume bnde aku xphm kn?lol.haha.
bkn ape.kau la ttbe jee mcm 2.
ye aku tw aku xperfek.xhebat.slgale bagai la x kn.
tp kn 2 bkn lesen tok kau pakai buang aku.
*aceceh.ayt nk gempak.
i mean ble kau susa bru kau cae aku.lolz.sstgh org msty kte
'normal la tuhh.manusie'
orite.aku redha la kn.tp.
aku pn ade haty kn :) haha.
myb haty aku mmg xpnteng pn bagy kau.
the matter skng kau kn.
hmm tape la.
nk sedap kn haty aku anggp la.manusie buat silap.
haha,bia jee la kn.
saket2 haty pn.at lest wt memori tok diri aku
psl kau.haha.ayt xmnahan.
mls nk pk.yg saket haty aku.bkn kau :)
lagy pn aku ckp nyy pn.
bkn nye kau prasan :)
p/s; suke haty kau la.asl kn kau hepi.aku bkn penting lgy kn :D
oh?2 those yg terase.tnggung la sndri.HAHA *smiley face
wait2!gmba kt ats 2 ade kne mngne ke?haha

POSTED ON: Monday, October 24, 2011 @ Monday, October 24, 2011 | 0 comments
helo peeps,
hurmm.nk merepek kjap.
tde info pnteng pn.
so,klu rse bosan.just move on.xyah bce la :)
watever dude.
uke,td g tgk dashboard.hmm.
eh? *nmpk sumtin yg menarik.
klik kt situ.teliti n bace.
wowo.he~


hmm.another story.
kau nyy tol2 wt aku rungsing
*uke myb xde la rungsing sgt.cume
kau ttbe2 je timbol.then tros ckp mcm 2.
takot aku tao.nseb la infomer aku ckp kau mmg cm 2.
lege cket dga.tapi kn.
ble tex kau.mcm kau siyes jee.
lagy tkot weii.xnk aku la.
kau da la ade GF.jgn nk mnakot2 kn aku la.
jge baek GF kau la.heish.
lgy pn.aku xde la knal mne kau kn.
cume pna kua ats dsar kwn yg ajk kn?
tp.xpe aku angp as gurauan je la :)
awok!lme xcte sal dye nih.
hmm.awok2.kdg2 kn rse plek nan awok.
hmm.tpe la myb men2 jee ot.
tpe la.yg pnting awok hepi la kn.
*ttbe jee kn. :D
lau pape tell me the truth.b4 its 2 late.
p/s; ttbe xde mud ble dy ckp cm uh.nk update blog pn mcm xjdy.so,nnty2 la

POSTED ON: Sunday, October 16, 2011 @ Sunday, October 16, 2011 | 0 comments
helooo and haluu.
hrmm.no title lagy?
haha.post ny tok suke2,
sje nk 2les ape yg ade lam aty.
tga bosan thap cipan.nk stdy pn mls gle
*xsda nk spm agknyeeee.adehh.
lagy pn blog medium tok aku lpaskn perasaan.
sbb skng ny da xley nk melukis lagy.
acident la ary 2*ayt nk gempak.
npe xley lukes da 2.bia jee la.xpnteng pn.haha
huu.SAYANG?
haha.msty la pna rse kn.
kt mk ayah pn sayang jgak kn.
hehe,syg kt sumone 2.mmg la bes.
haha.bes ke?yela walopn kdg2 rse sked aty cm nk maty.
tp lumrah la 2.lau da syg ape pn xkesa kn
bak kte makcik tipah sblah uma.'lautan gajah pn sngp gedah'
lolz.geli plak dga.emmm.
tp.ble da xkesefahamn.da xsehaluan.dah xthn sked aty
kne gak lps kn.so,kne la redha.
walopn susa,saked or watever,
t lame2 uke gak kn.lol.hee.
pengalamn jdy pngajaran plus jdy kn org 2 matang k?saba yee..
p/s; im kinda,da lpas kn anda la :DDDDDD.yay for me :)
cinta?
POSTED ON: @ Sunday, October 16, 2011 | 0 comments
hello peepss :)
hmm.ary ny mud aku sgt baekk.lolz.
haha.cbb td ubi blakang uma aku da mule mnunjukkn dri.
hee.oh yeah~.t ley la mam byk2 ubi 2.
i loike.
uke bbok suda.
lets stat.
actly aku sgt2 pelek bin ajaib.
sungguh.hmm.uke myb post ny ade yg terase.
tp kn.aku cume nk ckp ape yg aku rase.lgy un ny kan blog aku.
up 2 aku larr na 2les ape.
xsuke.so what?aku idop bkn nk wt sume org suke aku :D
uke.aku pelik gle.sbb skang ny,
rami gle ot yg couple dari laman sosial.
uke.aku xkesa la klu nk wt cm 2.korng pnye hal la kn.
tp kn cam ne sseorg 2 ley jatoh cinte plus sayang.
dgn hanye chat,then minx no.bknalan.
then.xpna jmpe un.tp ley ade perasaan.
come on la,hmm.emg la cinta xtgk rupe.
tp ley ke kte knal spe2 dgn hnye bercating?
yg paleng wat aku gelak guling2 cm ayam kene golek kn.
bwu knal 1 2 hari bole plak minx couple.paleng xley bla.
hee.tah pape tah.kte tol2 xknal weii.
hmm.bole lagy kte syg la.rndu la.eii
pape tah.pk la tol2.
xsume org easy come easy go taw.
btol2 xtaw cinte 2 ape la.heish.
tp.its uke la klu korg da knal,then jmpe.knal haty budi mseng2 kn.
alahai.cbe la pk tol2 sblom buat kputusan.
jgn t nyesal plak.saket taw kne tpu.
uke aku xde la pna kne tpu.
tp.cam sengal je lau couple laman sosail nyy.
watever la.idop kau kn.hmm.
k la chow beb.
p/s: lolz.sumpa aku xnk kaw.grr.gile ape?
you and me,totaly over.BUT how about HEARTS?
POSTED ON: Sunday, October 9, 2011 @ Sunday, October 09, 2011 | 0 comments
post nyy.jiwang siket.xnk bace.xpyh bce taw :))
hurmm.mlm da mken larot.
uke fyne bkn mlm lagy uda pagy da pn.watever.
em.na tacink2 skedd pgy2 nyy.
em.bkn ape bia aku tacink skng dpd aku tacink 1411 t.
masak aku t.
where 2 stat?lets see,
em.we are over for about 4month ago.
lolz.tp kn.smlm aku btol2 sure yg aku da lpe kn kau.
tp mlm nyy.aku sda yg aku sgt2
BELUM GET OVER YOU.
omang!cmne nyy.plis.plis.plis.
jgn SUKA.SYG.CINTA or watever kt dyy lagy.
adehh.byk lagy org dlm dunie kott.
ape la aku nyy.lolzz.
HEART; PLEASE lets it go.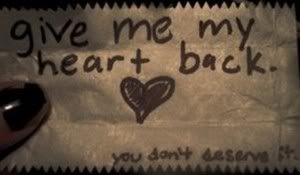 p/s; uke bkn slh kau pn.cume hary yg mahu mcm nyy. *pretend xsuke kau lagy kn?
pain.shy.going home.
POSTED ON: Friday, October 7, 2011 @ Friday, October 07, 2011 | 0 comments
hello monyet!huu.*bkn u la readers :P
hee.em.takesa la.ogeyh.
tah ape da jady kt aku ary nyy.meyh!
malu tahap karma la td.
taw awl2 lagy xdtg skula.xnk urot bagai lagy.
adehh.ope ta rmi yg mnpk la kn.siot jee
tp sumpa saked mcm nk maty.
bole koma aku *hiberbola lagy.
naseb baek bwu pkol 9 lbey.
lau fom3 da abes xam tp lagy xtaw mne mao ltk mke.
ngeh3.tpe la REDHA.
hum.MR.perfekk balek uma.yeepy.
aku spm dy mseh ade :)
walopn xsmpy abes SPM.
its uke at lest dy ade til 21.11
ngee.mngade kn ?-___-.ok fyne.ske aty i la.
uke.conclusin is.BROTHER HELP ME UP!
tgk la 2,my bro bjet cwit.*wekks.btw that is my monkey.he stole it :)
p/s;awok,xbalek laa mnggu ny :(.tpe la myb nex tyme.i LOVE.MISS you *bkn sng taw na ckp.
*bharap dy col?cket la. :P

POSTED ON: Sunday, October 2, 2011 @ Sunday, October 02, 2011 | 0 comments
.
.
.
.
.
.
.
.
no title.
hnye mahu ckp thnkx tokk 1jam3minitdan38saat tuh.
sgt bermakne :DDD
p/s; trust me 'C' 2 mmg ade cbb awokk!.ngee~

library.study.eat.uji kesabaran.
POSTED ON: Saturday, October 1, 2011 @ Saturday, October 01, 2011 | 0 comments
wuii.tgk2.blog aku da ade mnyet!
bravo! clap2. *ogeyh sunggh jakun :D
bwu update tp.bru separo n mls nk smbong cntek kn blog.
cbb dy,mcm biase INTENET LOMBAB *saboo.
let's stat:
td memerah ox hngge berair*hiperbola* kt library.
huu.seronok? jeng.jeng.jeng.
biase jee no heart feeeling pn.ngeh3
thnkx tokk mkcikk2 cthnye mcm ziqa,cyaf,fara n bdk syasya.
hmm.mnenmani aku n ox aku berfikir BIOLOGY.
mkn ayamas *gemukk.thnkx cpe yg melanje ciket 2
pakcik ziqa n bdk syasya.agaga!
tp.lam ketenagan aku mnghadapi idop ary ny.kn.
ade jee yg wt aku hangen.hanget.hanguss tebaka.
wahai mamat mne yg aku xknal.
kau ny ox tada ke,nk mintk kne rejam nan batu laju2?
heish.ko 2 da la pgy pusat keilmuan.
bole plak ko wt mcm bpk tiri blah nenek pnye adq ko nye libry?
pale hutak kau *aku tol hangin ny.
sedo la cket lau takat aku xlyn kau tyme ko konn2 na tackle aku dpn toilet 2.
tapaya la na bleng2 beg kn.*xgentelmen langsong.
ape kau pk aku ny nk ke owg yg kco ank dare org in pulic place ny?
bodo2 la kau.xmatang langsung.arap rambot je tpacak.
ape la kau ny mamat.sedo cket la.
dtg library nk blajo.
then lau xdpt 2.jgn nk ngamuk plak.
jgn prasan dry 2 ensem cgt la cikk abg :)
btw.gambo?
aisaymen.tah ape gile comp ny taley bce usb fon aku.
mls nk pk so tade gmba.
maaf.peeps
p/s; awokk epy mnthlycry :)) aww!
tokk kaw.*xske la.jgn tex cm 2.lolzzz -__________-' argghh.
sebelum2 / jum naek :) / Newer →