HAPPY BIRTHDAY :)
POSTED ON: Monday, November 28, 2011 @ Monday, November 28, 2011 | 0 comments
heyy you :)
17 sudaa finally kn ?
sudaa tue.ahaks.yea.
gud luck spm lagy 2 subject 2.
may allah bless you.
thanks juge dah jady my fren due taon ny.
thnks juge tok semuanyee :)

P/s; sory cbb lmbt wish.

POSTED ON: Saturday, November 26, 2011 @ Saturday, November 26, 2011 | 0 comments
hai peeps :)
lalala~ aku tga jeles nyy.
jeles la tgk owg sume tka kulit blog ni.haha
nk tuka juge.tp.....xberkesempatan saba ea :)
sikit aje lagy.
hurrmmm.nk cerite ni :)
td tgk muzik2.hee.*xsda tgs SPM.
tertgk lyn jee la kn.then,
ttbe najwa latif nyanyi cinte muke buku.
ibu and my abah un mcm xcited la tgk dye.
bkn ape,bkn minat pn just sbb tertentu,
haha.my abah pn bkk la cerita dye psl ayh najwa latif ny
pakcik latif.hee,ttbe my abah kate.
pakcik latif ni.maen lagu dye tyme my abah blaja kt oversea.
aku mcm OMG abah buat lagu?
aku gelak la kate my abah buat lawak.
ttbe my abah kate :
"amek gita kamu 2 bwk sini"
aku pn.like LOL.sengih2 aku bwk.
ttbe my abah men lagu yg dye reke tuhh.haha
omeyy jgk my abah ni.jiwang.haha
dye reke 20 buah lagu tyme dye fom5.ebadd x?
wuu~~ clap.clap.clap.skang dye da xbminat.
ade band kot dulu.alahai.
2 la kisah my abah.
k byebye :)
P/s :heyy awok! i know it HURT now.but it will be MORE HURT if u hear it soon.and other people tells you and not me.kn?sorry cgt2.but I JUST WANT 2 BE HONEST WITH YOU bcause
im totally sayang awk :)


POSTED ON: Friday, November 25, 2011 @ Friday, November 25, 2011 | 0 comments
helo.helo.helo.
aha!blog ni buruk gile.
rse nk sepak laju2 jee bile tgk.
saba la pas spm.buat operation.
plustic sugery kt blog ni.
hee.saked mate mmandag kn?
tgk aku ltk lagu wedding dress.
best kan?hee.
yg pasti bkan taeyang yg nyanyi lar.kan.
*bobok suda.
actly aku bosan cowng2 kt uma.
ujan lak 2.*post suka suka.
k bye~
p/s : heyy,budak epy ex.monthlycry.thnkx for the wish :D
*saw it on ur BLOG :D

ADDmath pluss physic
POSTED ON: Thursday, November 24, 2011 @ Thursday, November 24, 2011 | 0 comments
haluuuu peeeepsss.
due sabjek yg boleh mmbuno.*uke hiperbola.
myb bole.spe yg xtahan stress,then trjun bagunan.
uke,aku mseh kuat iman and xkn buat pekare yg sebegitu la kan.
hee.aku bru abes mnjalani 2 paper ny.
perghh.2 ary non stop aku stadi.sgt larr xpenah aku buat cm 2.
aha!aku kn mmg mls sket.hee~
mmg rse nk pengsan je abes paper2 ni.
alahai selase and rabu ade due lagy paper yg mmbuno.
oh yeah! biologi dan chemistry.
maty aku.cuti 4 hari kne stady.walopn mls.
add math frust la jgak sbb ats kesengalan diri.
aku bole tinggal 1 soalan yg mmpunyai a1 a2 b1 b2.
yg sume soklan 2 aku bole jwb.tp knape aku bole tertinggal?why?
adey.sedey thap bangau ni.
physic pule paper3 section B sgt aku taram :D
like yeah.experiment sendiri.
so, skang aku mls nk pike,
tinggal 3 subjek lagi nk abes SPM.
oh?nk abes da?yay!
aku dah nk msok 18 taon dah.tue gile.like LOLZ.
then,dpt soaln seni paper2.
*bukak2.oh?sgt la senang dye bagy soalan.
xbole lagi senang ke?mak aii.
lagi satu nk kne practis colour.sbb soalan dy susa.wekss,
uke.hmm.change the subject.
aha.cmne la td aku ley mndapat kekuatan nk
tnye dye soklan yg mcm 2, *ttop mke malu.
sumpa la.didnt xpect kau akn jwb mcm 2.
like...aku sgt sgt sgt terharu~
wuu~tah la.if i knw from the start.
bnde xkn jdy cmni kn.myb
u and me are not meant for each other.
in future lau blaku ape yg kau ckp 2.
alhamdullilah la kn :D
but for now, IM NOT SINGLE.
sorry.myb aku stil syg kau.
tp.dy tetap dah ade dalam hidop aku.
myb someday ur wish will come true.who knows?
p/s: wuu~ kau tetap the best person i ever LOVE.ahaks.
*bak kate abg aku;cinta monyet ngan true love itu sgt beze yer.
TRUE love you can feel it.wekss *jiwang,muntah setaon

bola.bola.bola.!
POSTED ON: Tuesday, November 22, 2011 @ Tuesday, November 22, 2011 | 0 comments
helo peeps.
yay!nmpk x?2 yg kt ats 2 title la.:D
yess.aku tgk bola ary nii.
aku ni actly xde pn ske tgk bola bile ngare2 asia main.
haha.jaat kn.xde rse patriotik lngsong.
lagi2 malaysia maen.lagy aku mls.
tp kali ni da tarek prhatian aku tok tgkk.
sbb malaysia lawan indonesia.hee
taw npe?hmm.tah smangat patriotik aku mmbare kot.
aku tgk si indon2 ny x habes2 nk kutuk mlysia.
adehh.bkn nk kte ape la.tp kn...
buat ape la nk mngutuk negare aku.xelok!
mara ni.grr.
pape la.bile tgk kne sepak penalti 2 ades.
ttop2 muke plus telinge aku.
cuak la klu2 x mcok.gile kn?
ttbe jee rse cm 2.pas ny xnk tgk lagy la.sked jiwe!
then.congrets la kt MALAYSIA. <3
syg le pule negare aku ny.awww.
and tok khairul fahmi,ur the best!
dlm game ny.i like you.aha
*k fyne tunang org sedaa :D
hero kite.lalala *encem x?
p/s; malas btol nk buat kn mr.gunner pnye FB baru.kcian,kne hack ye?
t ite wat kn afte SPM :) <333 *uke.mnyampah le 2

again and again and again ~~
POSTED ON: Sunday, November 20, 2011 @ Sunday, November 20, 2011 | 0 comments
ello :)
tgk 2 tga spm pn sng lenang on9 kn?
oh yeah lagy enam subject 2 go.
sume killer paper T.T
jgn aku tbuno 2 mnggu ny da la.
oh SPM.
actly nk update smlm.
tga2 bce ag ttbe je ilang.tydo la 2.
biase la bce bku g bareng2 emg lar kn.
uke.aku da stat dokk sowg kt uma.like LOLz
bkn la dok sowg ane,cume abg aku sume dah blah.
adehh.aku berSPM sowg2 la nyy.
bak kate abg aku "jum skype.t aku temn ko"
aha.terharu~ gedikk gak abg aku.
tpe la.kau blajo la leklok kt u 2.t aku join msok :) amin~
hurmm.t bulan 12 kau balek kn?kte jln2 kay ?
humm.adey,tgk aku bwt dye lagy..
heyy awok,sorry ccgt.
xde mksod pn na wt awok cdey pluss mara.
sorry sgt!tamo la ngajuk lagy.
sye tao sye sala.just men2 jep
tlg la on fon awk 2 T.T
xbwat lagy dahh.maaf ccgt~
if u HURT i HURT more :'(
p/s: syed adam thnkx 4 da call.xlupe kwn kn kau. :D

POSTED ON: Friday, November 11, 2011 @ Friday, November 11, 2011 | 0 comments
heyy.post tok owg2 yg aku knal :)
thee.cmny la.stre 2 da point.
sbb aku da gle nk tydo ny,
pnat la.craying like baby kt skula.
lolz.siyes la aku malu.xpna kot cm tuhh.
lau spe2 nmpk tuh.kire untong la.
bkn sng taw au nk ngess.
hati batu?xla.cume ego?haha.x uke.
hmm.cme nk ckp aku nk say sorry la
kt spe2 yg bkenaan.
nk spm ni.minx ler halal sgale bagai bnde kn.
aku x sempurna pn.byk wt dose.
msty ade owg kte 'ekeleh keco gile,nk pkse bwu nk minx maap'
mmg la.aku bkn xnk mnx maap b4 ny.
ta kire la.aku mnx maap sala ea?wek.
lau aku sala aku mnx maap.cume nyy maaf tok
things yg aku xparasn terbuat.mne la taw kn.
pape un sory la.wish me luck :)
spm sepuluh a pluss!
bm.bi.mt.sj.ag.bio.chem.phy.addmath.seni
14 november till 1 disember.
pray for me :)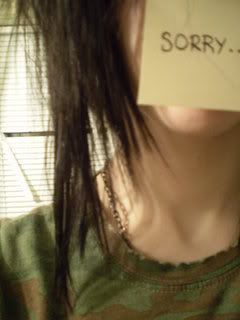 p/s: sebelassebelassebelas.
hapy ex anniversary.thnkx jady yg pertama :D
si budak gmuk.sorry cgtttt :(

POSTED ON: Saturday, November 5, 2011 @ Saturday, November 05, 2011 | 0 comments
theee~welcome home my dear brothers.
huarghh!pas ni kne tabah kn hati tok 4 hari.
menahan kenakalan n kejahatan abg2 aku yg kurng
belas kasihan kt adek downg kalau bab menyakat,
k fine,baru jee balek td.
tp da kne sakat.
berkat keterer aku,berjaye mngene kn mereka kembali
*haha! serve ur right
mmg cm budak2 umo mseng2 da 23,20 nan 18.
menyaket kn hati but seronok maa :)
afte 2111 all gone.tnggal aku.
terkontng kanteng cowg2,nk jwb spm tuh.
spm??mak aii.cuak seyh.sumpa la kn.
tah la.lalala.
walo pe un.oppas make me LAUGH smpi tcabut gigi :)
p/s: aww! kau mmg suke buat aku fall in love balek kn :)
damn hansome *jgn menyamph.alalala.
sebelum2 / jum naek :) / Newer →